Humor Me Mundo from TikTok
Open Humor_Me_Mundo in new window
Introduction
So this definitely was not the plan for my 2nd blog post, but given the fact that the last one dropped over a month ago and I haven't gotten anything started yet, I figure it is best to get in the habit no matter what it is!
Also, I don't want to be super serious all the time but simply share things I do and give them a permanent place...residing somewhere besides the black hole of social media.
So here we go!
Humor Me Mundo, a TikTok Celeb
My wife and I have been cracking up at his series of videos about quitting drinking . . . or trying to! Plus, his little head dancy dance is so great.
Here is his first one:
If you know me you know I love drawing people in my Survive The Day style characters. Also, I figured since I don't really know what else to do on TikTok that might be a fun thing to try!
Here is what I came up with: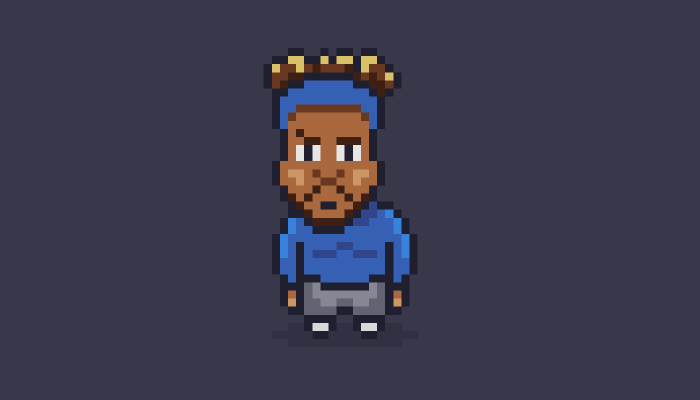 My TikTok Stitching Humor Me Mundo
Here is the final product of my TikTok:
Unfortunately you can't upload a video on a stitch so the colors don't look great from recording the screen.
But on the plus side he liked and commented shortly after I posted, like less than 10 minutes! That is one aspect I have enjoyed about TikTok: it seems that creators that make it big have less of an air of superiority than on other platforms. People are more focused on just enjoying it rather than achieving status, at least in my opinion.
Use the GIFs yourself
I decided to toss the GIFs up on Tenor and GIPHY in case others want to use them. Click the embeds below to get the links and options to use them.
GIPHY
For GIPHY there is no background so it can act as a sticker!
One cool thing I found with these is you can add them to your Instagram stories. Start a story, then switch to GIPHY and copy it, then go back to your Instagram story and wait a moment. A prompt should pop up to use the sticker.
Tenor
Tenor GIFs have a background but you can actually find these from the GIF buttons on places like Twitter or Discord!
For this one I took off the beginning part so the head dancy dance seamlessly loops!
Note: on one of them I accidently tagged it as "Color Me Mundo" instead of "Humor Me Mundo" but Tenor doesn't allow you to delete or edit once uploaded!
The Creation
I used Aseprite to create 3 different sprites:



I decided I did not want to animate this in Aseprite because I wasn't sure how easy it would be to make it smooth. Though, when making the GIFs above I realized it would have been pretty simple.
So I decided to pop the sprites into Construct and setup the animation there. I popped the sine behavior on the head and poof! There it goes back and forth!
I then added some events triggered on space bar to control when it goes from the different expressions and start the head dancy dance.
You can interact with the Humor_Me_Mundo Construct Project from this link or at the top of this blog page!
The End
That is it! I think I drew out a blog post about one TikTok post long enough!
Like I said, I just wanted to give this art and everything a permanent place to live online. Hope you enjoy!
I hope to draw some more people I follow on TikTok and make some more Stitches!
Sneak Peak...
My wife said she wouldn't talk to me until I added the bottle opener . . . if you have seen the TikToks you know what I mean!
Working on it, but not done yet!

You Might Also Like
Pixel Rotator
Just because.